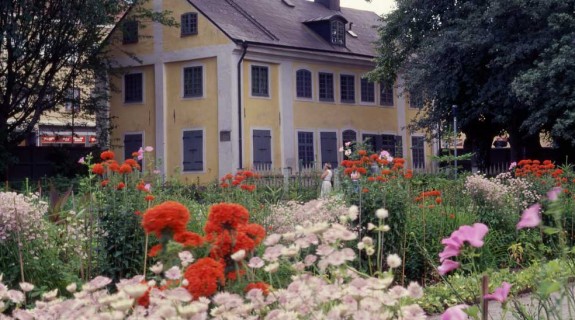 Step right into the 18th century and the home of Carl Linnaeus. The Linnaeus Museum is a living documentation of what life was like in the 18th century, and Linnaeus's immeasurable scientific achievement.
Address:
Linnémuseet, Svartbäcksgatan 27
Open:
May & Sept Tue–Sun 11 am–5 pm, June–Aug Mon-Sun 11am–5pm and Wed 11am–7pm. (closed during Midsummer).
Linnaeus did most of his work in the official residence in Botaniska huset, now Linnémuseet. The house is a living document of daily life in the 1700s, and a priceless scientific achievement.
Linnémuseet (Linnaeus Museum) has preserved the special atmosphere from the time of Linnaeus. Hand-painted linen wallcoverings, period dado panels and much of Linnaeus' furniture and objects reinforce the feeling of stepping straight into the 1700s. Here he sat in his room writing scientific papers, and letters to friends and colleagues who sent him plants and seeds from all corners of the world. He observed, reflected and wrote, and went out into the garden to follow the seasonal changes. He gave private tuition here, with the garden's plants close at hand.
It was an affluent home, and Linnaeus' wife Sarah Lisa ran the large household with a firm hand. In addition to their five children, they frequently had guests for everyday and special occasions, plus a number of farmhands and maids. In the spring, the Siberian corydalis still flowers in front of Linnémuseet. Linnaeus sowed it in the belief that it was bleeding heart. With the help of ants, it has subsequently spread all over Uppsala.
(The museum opened in 1937 after extensive restoration, and is now run by the Swedish Linnaeus Society.)